The lyrical video of the song from the upcoming Bangaraju movie in Nagarjuna, Naga Chaitanya combination has been released. In this video Nagachaitanya and Kriti are seen doing amazing dances.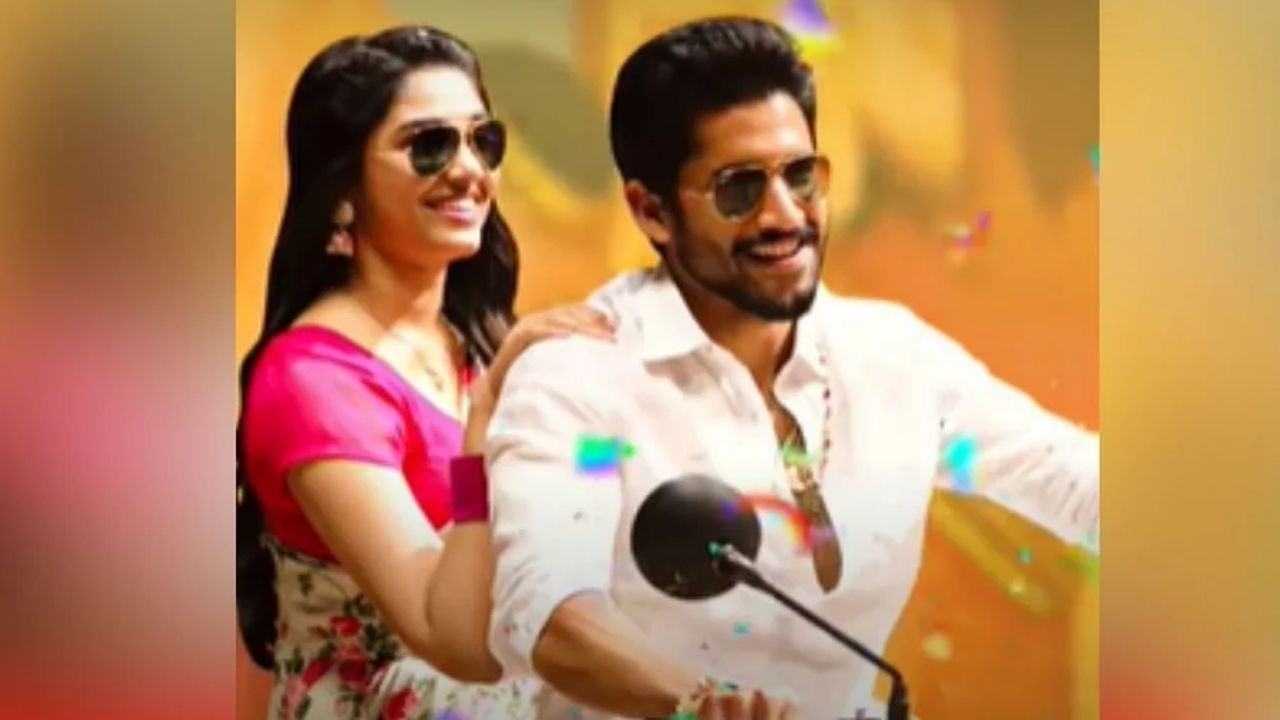 Bangarraju
Bangarraju: The lyrical song of the movie 'Bangarraju' starring superstar Akkineni Nagarjuna and Naga Chaitanya as heroes has been released. Actor Naga Chaitanya shared the video of the song on his Twitter handle. The chemistry between Naga and Krithishetti in this song is very good. The video also shows some dance steps along with posters for the lyrical video song of the golden song in 'Bangarraju'. As well as how the song was filmed. It also shows things related to it. Fans have been waiting for the movie to release the trailer a few days back and the interest in the movie has increased.
After 'Manam', the father and son will be seen together again in the movie 'Bangarraju'. Bangarraju is coming as a sequel to Nagarjuna's super hit 'Soggade Chinni Nayana'. Ramyakrishna plays the wife of Akkineni Nagarjuna in this film. Kriti Shetty plays the heroine. In this movie poster, Nagarjuna poses in Naga Chaitanya style.
Nagarjuna shared the teaser ..
Nagarjuna surprised the fans by sharing this movie poster on the occasion of New Year. In the teaser, Naga Chaitanya appeared to suit his father's style. The film has a full dose of romance as well as thriller and action. The film is being produced by Annapurna and Zee Studios. The music for the film was composed by Anoop Rubens. The film is set to release in theaters on January 15, 2022. Naga Chaitanya and Kriti Shetty were also well liked by the audience. The peppy song 'Chitti' from the movie was released some time ago. In this song Nagarjuna and Naga Chaitanya are seen dancing for fun.
Naga Chaitanya to make her Bollywood debut with 'Lal Singh Chadda' ..
Along with 'Bangarraju', Aamir Khan is all set to make his Bollywood debut with 'Lal Singh Chadha'. Advait Chandan is directing the film. Naga Chaitanya shared shooting photos of Aamir Khan's movie. After that the audience was eager to see the two together.
Here is #Bangara https://t.co/a9tUemlYa1 from #Bangarraju another super fun one from @anuprubens@iamnagarjunakalyankrishna_k @ fariaabdullah2@iamkrithishetty@AnnapurnaStdios ZeeStudios_ @zeemusiccompany @zeemusicsouth

– chaitanya akkineni (@chay_akkineni) January 8, 2022
Also Read: Rowdy Boys Trailer: NTR support for Rowdy Boys .. Impressive trailer ..
Viral Photo: The child in this photo .. Tollywood Top Stars starred with everyone .. Did anyone notice ..?