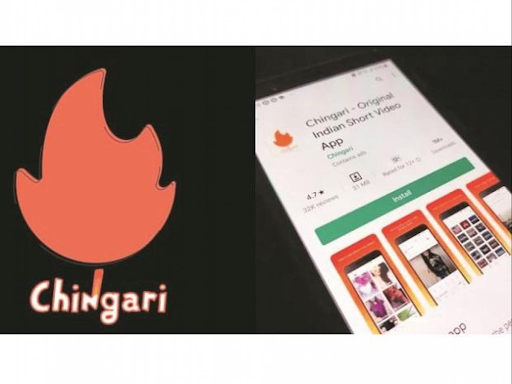 Image source: Business Standard
The Tiktok style app Spark – spark has revealed that it has become the most popular free social media platform in India, topping the Google Play rankings ahead of major players like Instagram, Snapchat, and Facebook.
It's a huge milestone for Chingari, which is a short TikTok-like video sharing app that boasts over 32 million daily active users at last count. Founded just over three years ago in November 2018, the app took advantage of India's decision to ban TikTok to satisfy millions of people's thirst for video-based shenanigans and entertainment.
Earlier this year, Chingari's popularity soared after it entered the history books as India's first social media app to launch its own cryptocurrency. The $ GARI token was launched as an in-app currency and has seen great success, most recently raising $ 6 million through an Initial Dex Offering on SolRazr.
The $ GARI token is based on the Solana blockchain, another Indian creation that aims to rival Ethereum and boasts a faster network with lower fees. The idea with $ GARI is to drive e-commerce within the Chingari ecosystem, giving creators a way to make money from their content by selling merchandise and NFTs and receiving donations from fans.
Crypto integration promises to drive even greater adoption of Chingari, but the success of the applications is largely due to its simple and easy-to-use application mechanics. With Chingari, users can upload short videos to background music, showing themselves performing various antics such as singing, dancing, joking, etc. One of the key features of Chingari is its filters, which allow users to add numerous types of visual effects to their videos.
The popularity of the Chingari app has undoubtedly also been boosted by its association with the Bollywood superstar actor. Salman khan, which has more than 43 million followers on Twitter. Khan is Chingari's "brand ambassador" and regularly promotes both the app and his recent dive into cryptocurrencies.
Be part of a revolution in content creation. A lot is happening here: NFT Marketplace + Social Commerce + Short Videos on Blockchain. All this and much more, powered by GARI Tokens (Chingari App Rewards Program). 🔥https://t.co/V4khtN5ko0#GARI #CHINGARI pic.twitter.com/uzilFzuAwh

– Salman Khan (@BeingSalmanKhan) December 4, 2021
With Chingari's immense popularity and the highly positive reaction to the launch of its $ GARI crypto token, the likes of Instagram and Facebook will have a hard time moving it to the top.
Disclaimer: This article is provided for informational purposes only. It is not offered or intended to be used as legal, tax, investment, financial or other advice.

Source: https://cryptodaily.co.uk/2021/12/chingaris-popularity-soars-as-it-surpasses-instagram-to-top-google-play-rankings