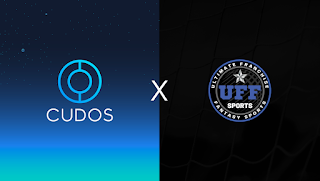 UFF Sports is a sports-based non-fungible token (NFT) project built on the Zilliqa blockchain. Their goal is to put the entire world of sport, past, present and future, on the blockchain as digital assets.
UFF Sports will provide a complex ecosystem for athletes to start a real digital career settled down in a virtual version of themselves as digital athletes NFT. This will give athletes income-generating mechanisms like fantasy sports and esports, crypto finance, gaming, and metaverse opportunities.
These features allow fans to interact, play and invest in their favorite athletes within this ecosystem now and in the future, even if they have passed away. Fans can also buy and operate complex digital sports franchises that function much like real-world organizations.
"Together with our current partners at Zilliqa, our star athletes (the list grows weekly), dedicated fans and investors, industry partners and now the Cudos team, we believe we will be one of the strongest forces in sports globally. ". UFF Sports.
Cudos will build the infrastructure, provide advice and innovation, and connect UFF Sports with its vast global ecosystem. Initially, the agreement is for UFF Sports use the Cudos decentralized computer network for provide the UFF Sports platform with reliable computing power and the peace of mind that your ecosystem is safe from the central point of failure risks.
In addition, the founders and other members of the UFF Sports team have large investments of CUDOS tokens and will be in a hurry a dedicated node of UFF Sports CUDOS.
Cudos and UFF Sports will also work together on a sport metaverse. The project will incorporate NFT in metaverse worlds where athletes, fans and franchise owners can grow and profit. This will be a global initiative that will run on the Cudos blockchain and will be integrated into the UFF Sports platform.
You can expect everything from NFT to cryptocurrencies to fully built sports venues with stadiums, athletes, fans, with even more plans for collaboration to follow in the future.
The Cudos project is the perfect partner to help UFFS with our entry into the metaverse space. Cudos provides decentralized computing and is a solid and promising blockchain with a truly amazing innovative team, which made our decision a breeze. We are confident that our collaboration will provide athletes of all sports, at all levels, an incredible opportunity to take advantage of metaverses and all things digital with their fans alongside them.
Tony Charanduk – founder of UFF Sports.
Pete Hill, Vice President of Sales for Cudos, said: "UFF Sports and Cudos strongly believe in bringing NFT fans and metaverses to sports around the world. This is a hugely significant partnership for Cudos, particularly in terms of user growth and network adoption. UFF Sports' consumer focus is well aligned with our vision, offering the potential for large-scale adoption of Cudos technology and the empowerment of athletes and fans within the emerging metaverse space. "
Learn how Cudos is partnering with Tingo to put the Cudos monetization app on 10 million smartphones worldwide, or how Cudos partnered with LDN UTD and London Mayor Sadiq Khan to promote health in the game. Too, Artemis Project is on its way and we are delighted to announce the launch of our mainnet in January. Meet Find out more here!
Additionally, we are looking for data centers and cloud service providers with global locations. So we want you to Contact We now! Yeah I know have your CUDOS tokens, why not make the most of them? stake them on our platform and secure our network?
About UFF Sports
UFF Sports is a sports-based NFT ecosystem that is bringing the entire sports world to the digital realm. The goal is: all sports at all levels, from prospects, minor leagues, pros, and even retired legends. Our ecosystem will empower athletes and their fans by leveraging digital racing in the UFFS global sports ecosystem.
About Cudos
The Cudos network is a layer one blockchain and layer two computing and Oracle network designed to ensure decentralized, permissionless access to high-performance computing at scale and enables computing resources to scale to 100,000 nodes. Once bridged on Ethereum, Algorand, Polkadot, and Cosmos, Cudos will enable scalable computation and the two-oracle layer on all bridged blockchains.
Learn more:
Website, Twitter, Telegram, Youtube, Discord, Medium, Podcast
Disclaimer: This is a sponsored press release and is for informational purposes only. It does not reflect the views of Crypto Daily, nor is it intended to be used as legal, tax, investment or financial advice.

Source: https://cryptodaily.co.uk/2021/12/cudos-puts-the-entire-sports-world-into-the-metaverse-with-uff-sports