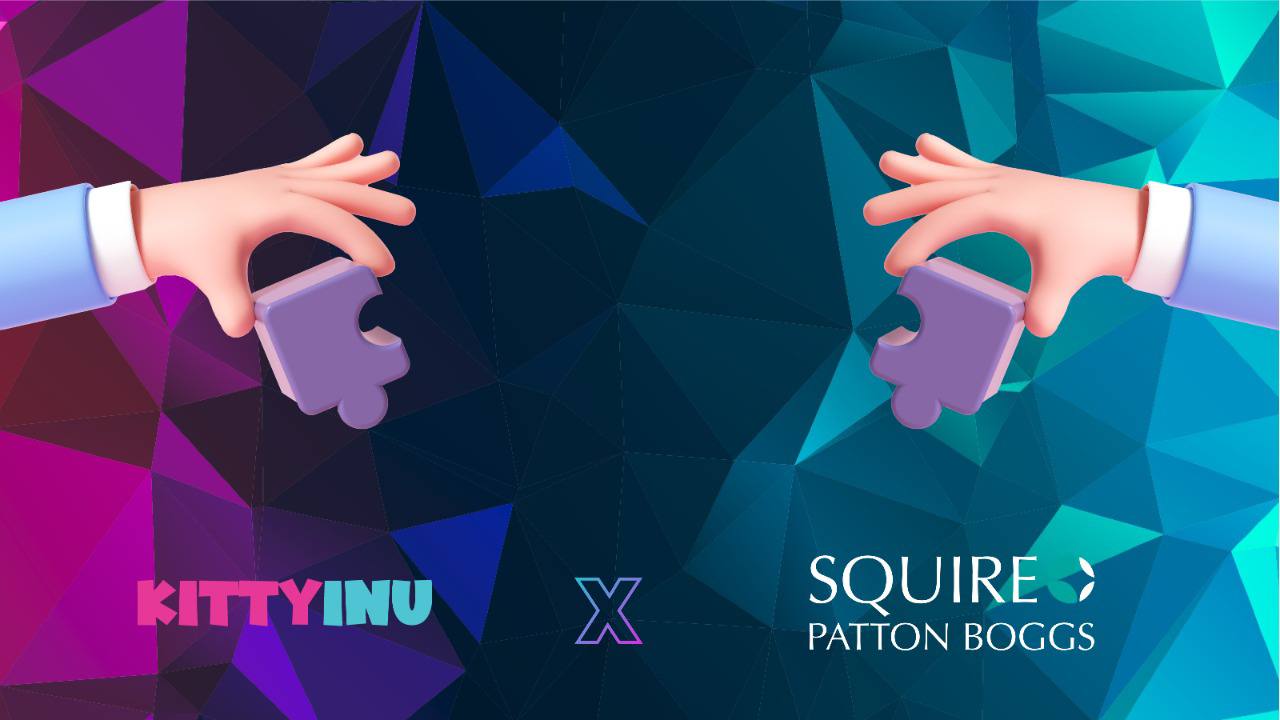 Kitty Inu has announced that she has hired Squire Patton Boggs, a full service global firm, as her outside legal counsel. The renowned international law firm will represent Kitty Inu in all legal matters related to the project, including the formation of a business entity.
Kitty Inu is a gaming protocol and NFT DeFi that powers a game-to-win model and metaverse ecosystem. The project aims to build a community driven game and NFT DeFi protocol backed by a team of experts. Aiming to pioneer artificial intelligence (AI) characters in the metaverse, Kitty Kart will be the first game built on the platform's proprietary Gaming and NFT Defi protocol, powered by the $ KITTY token.
The acquisition of Squire Patton Boggs as outside legal counsel is a great achievement. The international law firm represents various renowned individuals and projects, such as Dave Chappelle, LeBron James, Takata Corporation.
The law firm has 45 offices in 20 countries and was created after the merger of Squire Sanders and Patton Boggs in 2014. It is one of the 30 largest law firms in the world. The firm serves a wide range of clients ranging from FTSE Index 100 Corporations and Fortune 100 companies to private clients and now the blockchain protocol, Kitty Inu.
The Kitty Inu team issued a press release: "We are confident in the company's ability to represent the Kitty Inu project and navigate the legal complexities of creating and maintaining a global cryptocurrency company. We are very excited for our future working with Squire Patton Boggs. "
About Squire Patton Boggs
Squire Patton Boggs is a full-service global law firm providing insight into the guesswork of law, business, and government, giving businesses and individuals a voice to support their ambitions and achieve successful results. The law firm employs a team of more than 1,500 attorneys and provides unrivaled access to invaluable experience and connections on the ground.
Squire Patton Boggs is an integrated service that operates locally and on a global scale. It covers practically all jurisdictions, subjects and markets. For more information on Squire Patton Boggs, visit https://www.squirepattonboggs.com/en.
About Kitty Inu
Kitty Inu is a gaming and NFT DeFi protocol that powers the Play-to-Earn and Metaverse ecosystem with a mission to build a community-driven ecosystem backed by one of the most talented and experienced teams in the DeFi space. The project is powered by a $ kitty token at its core that powers the variety of products the project offers, such as Kitty Kart.
Kitty Inu envisions a multi-utility platform for the native double-stranded $ KITTY token. Kitty Inu is also working to achieve a strong presence in its utility role within the DeFi space.
For more information on Kitty Inu, visit the website, Twitter, Instagram, Telegram, Y Medium.
Disclaimer: This is a sponsored press release and is for informational purposes only. It does not reflect the views of Crypto Daily, nor is it intended to be used as legal, tax, investment or financial advice.

Source: https://cryptodaily.co.uk/2021/12/kitty-inu-has-retained-squire-patton-boggs-as-external-legal-counsel