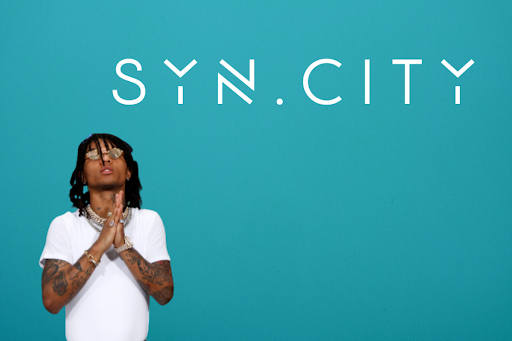 The world of games, music and NFT has been aligned with the appointment of Swae Lee as CEO (Chief Entertainment Officer) for the Metaverse world based on the mafia. SYN CITY. SYN CITY is an innovative new metaverse platform that leverages the blockchain to incentivize its players to build, fight, and claim new territory. It is the first MaaD (Mafia as a DAO) platform, celebrating the guiding role of its users to build and lead their own gangster syndicates. The game traverses virtual worlds and allows its players to participate in daily events, PvE, PvP, and syndicate events, such as inter-chain mob wars.
The announcement of Swae lee the company marks a true turning point in popular culture. Swae Lee has been nominated for 5 Grammys and has collaborated with some of the biggest artists, including Alicia Keys and Drake. He is also the featured artist behind Post Malone's 'Sunflower,' which rose to the top of the Billboard charts in 2020 and was nominated for two 2020 Grammy Awards.
Swae will be in charge of all day-to-day operations, which will include partnerships and deals in marketing for entertainment, sports, music and more. The appointment will leverage your experience or form partnerships and synergies for SYN CITY,
According to Swae,
"I always do things that are interesting, whether it's for me or for my millions of fans," adds Swae Lee, SYN CITY entertainment director. "I live in the moment, but I also enjoy trying and exploring new things. The SYN CITY concept struck a chord with me because it allows me to visualize some of my ideas and I can be part of a new frontier in technology. It makes me optimistic for the future of our society ".
For the SYN CITY team, true masters of gaming, hailing from Disney, Roblox, EA and other leading gaming houses, this event consolidates the culture and the NFT side of the business, while the rest of the team focuses on the elements. visuals.
According to its CEO Roy Liu,
"We are only at the beginning. Our ambition has always been to attract intellectual capital and talent to increase our constant and live feedback with our community through Twitter Spaces, TikTok and more. We needed real experience in these fields to help SYN CITY overcome to the next level. Swae Lee ticks all the right boxes across the board. "
Disclaimer: This article is provided for informational purposes only. It is not offered or intended to be used as legal, tax, investment, financial or other advice.

Source: https://cryptodaily.co.uk/2021/12/new-dawn-in-gaming-marked-by-the-appointment-of-rapper-swae-lee-as-syn-city-ceo